Honor and Immortalize your Pet or favorite animal with an important piece of fine art; The original Cy Hundley Acrylic Painting on Canvas. This work will continue to honor its subject, and elicit smiles and emotion for literally generations.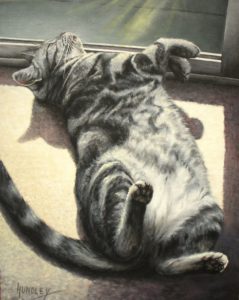 The cost for a Cy Hundley original Acrylic Painting starts at $1150.00 for one animal portrayed on an 11" x 14" Canvas.
Your final cost for an Acrylic Portrait is dependent on the size of the canvas, the number of subjects being portrayed and the amount of detail  in the background.
Popular additional sizes are 16″ x 20″,  18″ x 24″,  and  24″ x 36″.  Pricing for these will be agreed upon once we discuss the scope of the work you desire.
If your Acrylic Portrait needs to be sent to you, there will be a charge added on your final invoice for the Packaging, Insurance and Shipping costs.
Acrylic painting commissions will be discussed and accepted through appointment only. Email or give a call, I would love to meet you and talk about your project.
I use the best paints and work on heavy weight cotton canvas. I paint in the "Gallery Wrap" style which means I continue the painted scene around all four edges of the stretched canvas. All of my canvases have a deep 1.5 inch profile. The finished Cy Hundley painting is impressive and ready to hang upon completion. A frame is optional.
* Did you see one or two Paintings in my

Gallery

that really stand out, but want to meet me and learn 

more before you decide if this is right for you? Then email or give me a quick call. 
I'm sure you'll find this one quick conversation to be very helpful. Two heads are better than one, and I have been at this a long time. 🙂
 * P.S. If I'm off working in the studio, leave a message and the best time for me to get back to you. 

 
*
Copyrights for reproduction on all of the artwork on this website are retained by Cy Hundley.  All of the Charcoal Drawings and Acrylic Paintings,  purchased here do not include reproduction rights. These are sold separately. Please contact me if you believe reproducing my work is of benefit to you. Costs and terms of contract are determined by final usage.  I will be happy to share, please just ask first! Thank you.
*
Cy Hundley, Fine Artist     509.415.2496    Chelan Washington   Email cyhundley@frontier.com