"I worked from home today so I wouldn't miss the delivery of Whimsey's portrait.   I had no idea.  I loved the photo of the Portrait, but had absolutely no idea of what it would look like in person so to speak.  My God, Cy, it looks exactly like my darling basking in the sun and it is in three dimensions!   I can count the number of eye lashes as well as the number of whiskers.  How can I thank you?  I would have been happy to pay you twice what you charged me to have my boy given back to me like this!  I feel like I could just reach out and touch him and he'd begin to purr.   I swear that Whimsey must have sitting on your shoulder when you painted this.  My baby has finally come home!
THANK YOU SO MUCH!!!!!"
-Elizabeth,  Sunnyvale, CA
Wow would be an understatement. My daughter said it is so perfect a likeness that she thought it was a photograph on first blush. She hung it in her house that very evening. She is delighted and so am I. The painting turned out exactly as I had hoped and I know she will treasure it long after Dusty has gone.
Beth,  Denver CO
"Crazy
I'm sitting in my living room looking at the portrait you did of Marty and Millie grinning ear to ear!
Thank you Cy it's just lovely. You do good work. 

They know!!
Both of them have been putting their noses to your portrait.
They never do that with my other pictures." 
-Mary,  Snohomish WA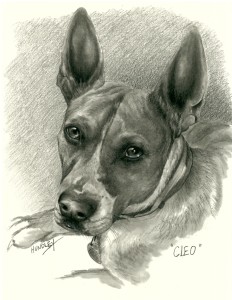 "I commissioned Cy for a pet portrait of a dear friend's Cleo. A rescue dog, Cleo has captured the hearts of all who know her and I knew that a portrait would be a gift cherished forever.
I send Cy two photographs of Cleo and he immediately set up a phone call with me to discuss my vision for the piece. Cy was an absolute delight to work with. He kept me apprised of every step in the process. When the art arrived, it was carefully packaged with clear instructions for opening so as to not damage the piece. The portrait was simply stunning. It captured Cleo's loving personality and upon presentation to my friend, brought tears to her eyes. I recommend Cy without hesitation. He is a truly gifted artist and also a genuine lover of all animals."
-Patricia,  New York City
"Working with Cy on the portrait of my two cats was a pure joy.
He was very accommodating to my ideas and made sure that everything was agreed on before he started the project. We had a few phone conversations about Teddy and Cookie's personalities to help him better capture their true likeness on the painting.
Once the project was started I was getting update reports once a week. So I was fully informed about the progress.
The painting was a gift for my husband's birthday. We both love how Cy captured our Cookie and Teddy down to the last detail, like little freckles on Teddy's nose."
-Aleksandra,
Seattle Washington
"I LOVE it! Excellent representation of our pups–my husband will be so touched. Thank you so much!"
-Cyndy,  Ellensburg Washington
"I can't tell you how much we appreciate and love the portrait.  It's like you've given Izzie back to us.  Not to diminish our love for Belle – the portrait is just so special of both of them.  We kept saying after you left how gifted you are and how impressed we are that you captured each dog's personality and expressions so perfectly.  Thank you thank you!"
– Lucinda,  Denver Colorado
"Wow! You did an awesome job on my cats!!  They look like they could speak to me!! I love, love, love the portrait of my 3 babies!! Thank you soooo much. You truly captured them in such a special way ! You are just awesome Cy.
And Gunner is amazing 🙂
We just keep staring at the portraits!!
Your ability to such detail just blows my mind !!
Thank you, Thank you, Thank you!!
You are an amazing artist!!"
-Carole, Chelan WA
Kate received her portrait of Smudge and fell in love with it, in fact she
can't stop talking about it.  She wanted to know who did it and I told her
all about how wonderful you were to work with.  How you took so much time
and consideration into the portrait before even staring the process and how
you continually sent updates.  She is even taking pictures of the portrait
on the easel and emailing it to her friends.  I can't thank you enough and
feel free to use any part of the email on your website.  Thanks again for
letting me believe that there truly is a Santa.  Hope you have a wonderful
New Year, one that is filled with good friends and good health.  Take care.

Warmly,

Shelley 
"Kenai came out awesome and in plenty of time to show him off this holiday season. thank you so much for such an amazing portrait of my best friend!"
– Ariel,  Firestone Colorado
"I recently hired Cy Hundley to paint a picture of my beautiful Huskie named Anya. Without even being able to meet with my dog, Cy was able to capture her essence, spirit and soul through his extraordinary painting abilities. He is a wonderful artist and more so, a professional to work with. He does not rush through any of his work and is committed to making sure that you are completely satisfied with the piece that he creates for you. I would highly recommend Cy to anyone who wants to have a timeless piece of their pet that they can hold on to forever."
–  Daniel,  Boulder Colorado
" I could hardly believe my eyes when I saw Max and Willie together again!  It's one thing to see any of Cy's beautiful pet paintings, charcoals, drawings, etc.  You see a beautiful animal, admire it, and really admire his artistic abilities, his attention to detail, and the realism.  It's a whole different and more amazing thing when you see your OWN pet and realize that Cy has captured the personality, the quirks, the facial expressions and just all the things that make your special dog or cat or horse unique.  And, especially when you've lost one, as we lost Max, Willie's brother, it really makes it special."
– Susan,  Boulder Colorado
*
Cy Hundley,  Fine Artist   509.415.2496 Chelan Washington Email  cyhundley@frontier.com